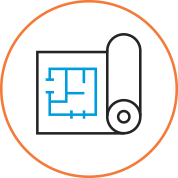 Realize Your Creative Vision
As professionals designing the buildings and interiors of the future, architects may find it challenging to marry their creative vision to existing construction codes. Early partnership with Metropolis consultants offers invaluable guidance for presenting innovative design elements for municipal approval. Decades of experience also allow us to spot compliance pitfalls before submission and advise architects on options that support their design goals and governing building regulations.
We work with architects at every stage of the construction process to navigate challenges and ensure the project's success. Through resourceful problem-solving, we help maximize design creativity within the boundaries of building codes.
Consulting. Architects rely on our knowledge of New York City construction codes and the International Building Code (IBC) to advise them on potential compliance issues early in the design process.
Approvals and Permits. We streamline the approval process by reviewing designs and applications before submission. Then, we work with municipal agencies to collect permits on behalf of clients.
Sign-Offs. Our Sign-Off Division monitors construction progress and collects closeout requirements. We also conduct pre-inspection walk-throughs to ensure compliance with approved drawings.
Compliance. The experts at Metropolis Group help minimize the costs and potential downtime of construction violations through speedy resolution—and our knowledge of which penalties and fees can be waived or reduced.