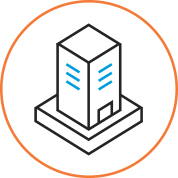 Increase Your Property's Profitability
Building owners across the country have had to re-evaluate their real estate strategy in the wake of the pandemic. Owners of office and retail space have suffered due to changes in how—and where—people work and shop. Compounding the challenges of low occupancy rates are new municipal standards to decrease annual emissions, which require costly retrofits.
Metropolis Group is partnering with building owners across the country to explore options for attracting tenants and increasing the profitability of their properties. From initial concept development and feasibility studies through implementation and occupancy, we help owners realize their goals in an efficient, cost-effective way.
Consulting. Property owners turn to Metropolis Group for guidance on improving building profitability through creative repositioning. Together, we evaluate options to identify the right strategy for the client.
Approvals and Permits. We assist with strategy execution by reviewing designs for compliance with construction codes before agency submission. We then stay in touch with municipal agencies to collect permits on behalf of contractors.
Sign-Offs. We track construction progress and gather close-out documentation throughout the process to ensure timely completion and speedy occupancy.
Compliance. The costs of non-compliance can quickly erode profitability. We provide regular reports to ensure a clean building profile. Our Violations Team helps prevent repeat violations by researching root causes and recommending corrective action.