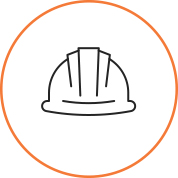 Maximize Your Return on Investment
Not all deals are created equal, and some shouldn't be pursued at all. Higher costs for materials and labor increase the risk associated with development projects, as well as the impact of construction delays. Metropolis Group helps minimize uncertainty through due diligence and expert guidance.
Even before acquiring property, developers consult with us to confirm whether current zoning regulations will support a proposed development—or to evaluate their chances of securing a variance. They rely on our 35 years of code and zoning experience to identify the most promising investment opportunities and to minimize the timeline to completion and occupancy.
Consulting. We help developers maximize their investments by providing comprehensive due diligence during the planning stage and creating efficient, cost-effective construction strategies.
Approvals and Permits. Post-pandemic permit timelines can make application errors even more costly. We review submissions and drawings for accuracy and completion and then follow up with agencies to secure permits.
Sign-Offs. We coordinate with project teams throughout construction to help keep projects on schedule and on budget. We collect sign-off requirements and conduct pre-inspection reviews to ensure timely occupancy.
Compliance. Careful oversight helps minimize violations, and our knowledgeable Violations Division reduces the financial impact of violations through early notification and remediation guidance.