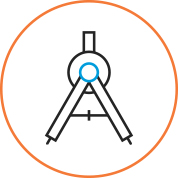 Stay Compliant—and on Schedule
Because the safety of occupants depends on a building's structure and its systems, engineers must meet stringent compliance requirements. The costs of non-compliance range from financial penalties to loss of reputation and even licensure. Metropolis Group helps engineers stay abreast of changing regulations to keep projects on track from start to finish.
When innovative designs or technologies clash with existing regulations, Metropolis experts work with engineers to develop creative solutions that advance project goals and protect the public through code compliance. This collaborative approach to navigating construction challenges reduces the risk of non-compliance and frees engineers to focus on their core services.
Consulting. Engineers partner with us during the design development phase to ensure compliance with New York City construction codes and the International Building Code (IBC).
Approvals and Permits. We help engineers identify construction challenges early in the process, before submitting applications, which results in timely approvals. We also collect permits on their behalf, freeing them to focus on their core service offering.
Sign-Offs. We coordinate with the project team throughout construction and collect closeout requirements. We also perform pre-inspection walk-throughs to identify potential compliance issues before inspectors arrive.
Compliance. Ongoing oversight by our Violations Division minimizes construction delays due to non-compliance. We help reduce the financial impact of violations through early identification and prompt resolution.