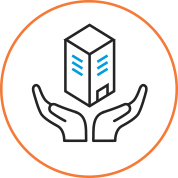 Clean Building Profiles. Happy Tenants.
Penalties and fines are never a good thing, but eliminating these unnecessary expenses becomes even more important in a challenging real estate market. Property managers turn to Metropolis Group to keep buildings in compliance through daily, weekly, and/or monthly reports. We go beyond traditional violation research to identify underlying issues and prevent repeat offenses. This proactive strategy eliminates unpleasant surprises during tenant negotiations and renovation projects.
Backed by 35 years of code and zoning expertise, we work with building management and tenants for remediation and alteration projects to maintain compliance. Code consultants and project management teams help keep construction on schedule and within budget, minimizing disruption and allowing timely occupancy.
Consulting. Our consulting services help property managers maximize operational efficiency. As building codes and interior spaces evolve, we work with property managers and tenants to ensure ongoing compliance.
Approvals and Permits. Whether creating a custom tenant space or remediating a violation, we shorten approval timelines by reviewing drawings and applications before submission. Then, we stay in touch with the municipal agency for timely permit issuance.
Sign-Offs. Improper sign-offs can create long-term compliance headaches. We collect required documents throughout the construction process and conduct pre-inspection walk-throughs to close projects fully.
Compliance. Our Compliance Division provides ongoing compliance reports and guidance regarding remediation strategies. Early notification and expert advice reduce the financial impact of non-compliance.