By Austin Regan, R.A.
Now that daylight saving time is over, darkness comes quicker, and the air gets colder. There's no better way to get through those long nights than getting under a warm blanket, settling in with a hot toddy, and catching up on all the reading you have been meaning to do.
Personally, I have put the thrillers and the sci-fi on the back burner to dive into what surely will not be on the NY Times bestseller list: the 2,890-page Intro #2261-A, recently released by the New York City Council and soon to be known as the 2022 NYC Building Code. Destined to be a cure for insomnia for most, the legislation is unlikely to be classified as a good read, but for some of us, it is a must read.
Where did that Section go? 
From one update to the next, much of the code language does not change, but you can always count on the code sections changing. For instance, rules related to Places of Assembly are located in Chapter 10 – Egress. The specific section was BC 1026 in the 2008 code, traveled to BC 1028 in the 2014 code, and now will appear in BC 1029 in the 2022 version. At least these shifts have been in one direction. We can't say the same for BC 1021 – Number of Exits and Continuity or BC 1015 – Exit and Exit Access Doorways. The two sections have been combined and named "Number of Exits and Exit Access Doorways." This newly combined section will debut under BC 1006 in the 2022 code.
More than just Section number changes
Exits, Occupant Load & Travel Distance.  The newly combined section BC 1006 addresses the maximum occupant load for a space containing one door in a tabular format, similar to how it was formerly addressed in BC Table 1015.1. The new BC Table 1006.2.1 also incorporates limits based on Maximum Common Path of Egress. Common path always had to be considered in the design of a space and how many points of egress would be required. Placing both factors in one table is a little more user friendly. See old and new tables below.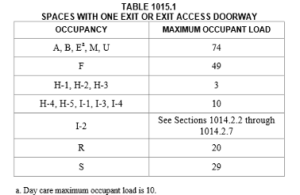 New Table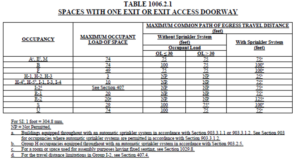 Some Clarity for Amenity spaces. One of the most widely used tables in Chapter 10 is BC Table 1004.1.1. This table helps establish minimum occupant loads, based on how spaces are used, to determine minimum egress requirements. The 2022 version, of course, has a slight number change (Table 1004.1.3). More importantly, the table has provided some guidance related to residential tenant amenity spaces. For the first time, the table addresses the concept of passive recreation terraces, first introduced in Building Bulletin 2018-002. Also, indoor amenity spaces are categorized as "concentrated" or "unconcentrated." Hopefully, these clarifications will lead to more realistic occupant loads for some of these popular spaces.
Part of Table 1004.1.3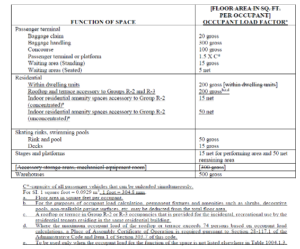 There are many more code changes that we will discuss in the coming months and will address individually with clients as they design future buildings that will be subject to the 2022 code.