By Sami Sallaway
On December 2, 2022, Metropolis President Frank Fortino announced the winners of the company's top awards at the annual holiday celebration, which took place at Battery Park Gardens. Expeditor Usha Tejiram received the 2022 Employee of the Year award, and Director of Operations Penny Laughlin was honored as the 2022 Manager of the Year.
"This past year presented some exciting challenges, as construction activity continued to pick up and the industry prepared for the new construction codes," said Fortino. "During a time when everyone at Metropolis provided exceptional service, Usha and Penny were selected by their peers as the best of the best. Congratulations."
2022 Employee of the Year: Usha Tejiram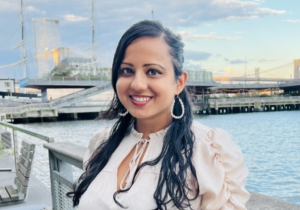 Usha joined Metropolis Group in July 2018 as part of the Outer Borough filing representative expediting team and now supports projects throughout New York City. She enjoys staying abreast of ongoing industry changes to help create better client outcomes.
After college graduation, Usha began her career at a small expediting firm and discovered her love of the construction industry. She moved to Metropolis to develop her skills and her industry knowledge further. "I enjoy the complexity of the projects," she says. "Every day is different. It's a challenge to navigate the DOB and to secure prompt approvals for clients."
"Usha is a team player who learns all she can to make herself more valuable to clients and colleagues," says Eileen Rivera, Operations Manager. "She does an excellent job of keeping projects on track at the city agencies, and she always goes above and beyond to help her team."
When she heard her name announced as the winner, Usha was shocked. "Everybody works very hard, and I just didn't think it would be me," she says. "I couldn't do it without the teamwork of the office. Everyone is always there to lend a helping hand, based on their expertise."
2022 Manager of the Year: Penny Laughlin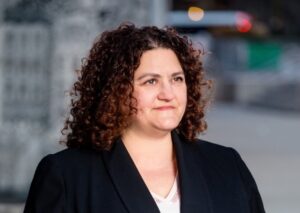 After Fortino concluded his annual state-of-the-company remarks and thanked employees for their contributions, Penny Laughlin was eager to hear who had been selected as the 2022 honorees. "We have a great team," she says. "It's hard to single out individual performers because everyone does such good work."
She was "stunned" and "elated" when Fortino named her as the Manager of the Year.
"I was at a loss for words," says Penny, who joined Metropolis in September 1998. "My first thought was that I needed to thank my team. A manager is only as good as the team they work with, and we have an amazing team. I love seeing everyone collaborate to make the best outcomes happen for our clients."
This was the second time Penny was honored as Manager of the Year. She received the inaugural award in 2014.
"Penny has been a resource for the firm throughout her tenure," says Gregory Fortino, Chief Operating Officer. "Her ability to maintain a positive attitude and look at the details has proven to be successful and will continue to help drive Metropolis Group's success forward."
Award Criteria
The Employee and Manager of the Year awards recognize outstanding team members who demonstrate initiative and take on other roles in addition to performing their primary job responsibilities. Other criteria include industry knowledge and expertise, positive work attitude, and team contributions.
Each year, Metropolis employees anonymously nominate peers and managers, who must be full-time employees with a minimum tenure of six months.