By Austin Regan, R.A.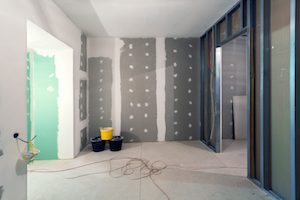 In last month's article, we mentioned the four Department of Building (DOB) divisions that must sign off on issuance of a Final Certificate of Occupancy:
Construction Division
Plumbing Division
Elevator Division
Electrical Division
For Temporary Certificates of Occupancy, at a minimum, temporary signoffs must be obtained from the first three divisions. Electrical Division signoff is only required for Final CO. The different factors that determine whether one can obtain a final vs. temporary signoff vary between the divisions and the boroughs. The most obvious example of eligibility for only a temporary signoff is a partially completed building. Even if the building is completed, other factors come into play.
Construction Division Signoff
The criteria for identifying readiness for division signoff are easiest to understand for Construction. Simply put, is construction complete for the floors you wish to inspect? If "yes," you are ready for inspection.
This explanation invariably prompts the question, "What do you mean by complete?" Only minor punch list items may be left. Walls should be at least primed. Floors, ceilings, trim, lighting fixtures, appliances and plumbing fixtures must be completely installed. Doors and hardware must be installed. For residential buildings, most inspectors will not object if corridor carpeting is not installed. Finished floors within the apartments must be completed. Apartments must be "move in" ready.
Currently, it takes less than a week to obtain an inspection, with lead times as short as one day. Therefore, the site must be ready prior to requesting the inspection. On inspection day, a full-size set of approved plans must be on site. The inspector will verify both the application number and the approval date on the plans. For larger buildings, it is helpful to also have a half-size set with only floor plans and building elevations, as the inspector may prefer to walk with a more manageable set of drawings.
Inspection Tips
Real estate agents talk about the importance of curb appeal. The same psychology applies to CO inspections. The inspector's first impression when approaching the site can go a long way in ensuring a successful outcome. Keep the entrance to the building clear of obstacles and construction equipment. Building lobbies should look complete. Ceilings and light fixtures should be installed. No exposed wires, please. Use a plate to cover any electrical box missing a fixture. If the marble countertop for the doorman's desk has not yet arrived, install a laminate one in its place. Ladders, toolboxes and saw horses should not be in the lobby—or any space where you hope to secure a TCO.
The most important rule to follow during a TCO inspection: DON'T HAVE WORKERS IN THE SPACES BEING INSPECTED! While it may seem like a no-brainer to not have active construction work in spaces that you claim are ready for occupancy, many inspections have failed for not following this simple rule.
An initial TCO inspection covering only a few floors must always include the mechanical rooms needed for building operations, such as electrical rooms, meter rooms, pump rooms, boiler rooms, etc. These rooms must be fully fire-stopped and free of storage materials and contractor items. Egress stairways must be complete from the lowest floor to the roof. In residential buildings and hotels, trash compactor rooms must be complete, with equipment installed. All building types must have working illuminated exit signs in place.
After the Inspection
When the construction inspection is complete, the inspector will issue either an OK for temporary construction signoff or objections. The objections will either be certifiable, where they can be resolved by uploading photos, affidavits or plans that correct the violating condition, or non-certifiable, which requires scheduling a re-inspection for resolution.
Once all objections are resolved, the construction chief supervisor will review and determine whether to grant a Temporary Construction signoff. Each Borough Chief has different criteria. In general, they will look for sprinklers and fire alarms to be completed. Some will want other applications signed off, like the emergency generator. Some chiefs will accept licensed professionals' affidavits in lieu of signoffs. Others only will accept overrides from the Borough Commissioner's office.
Once the first Temporary Construction signoff goes into the computer, a milestone has been reached. You now have taken a significant step towards TCO. However, hurdles still lay ahead. Next month, we'll cover the Elevator Signoff.